Welcome to Curtain's Up Theater Company's official website. We are a community theater group based in the Edwardsville/Collinsville area in Southern Illinois.

---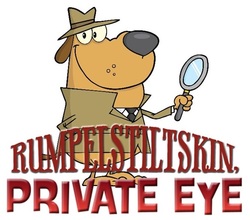 Auditions for Rumpelstiltskin, Private Eye - Part of SIU-E's Season for the Child
There are plenty of roles for children AND adults - all actors ages 8 (at the time of auditions) and up are welcome to audition.
Prepared monologues are not necessary - selections will be available at auditions. All those auditioning should be prepared to do a cold read from the script.
All actors auditioning under the age of 18 must be accompanied by a parent or guardian.
Auditions will be held December 12, 2015 from 10:30 AM to 2:30 PM at Collinsville Senior Center (420 E. Main St.).
About the show: Rumpelstiltskin is hired, along with his sidekick Ugly Duckling, to solve a recent rash of crimes in Fairytale Land. The Three Bears, The Three Little Pigs, Little Red Riding Hood and more all appear in this film noir spoof of a fairytale. The crimes all appear to be unrelated, and only Rumpelstiltskin has a chance at solving them.
Performances will be March 19, 2016 at SIU-E (2 and 7 PM) and April 3, 2016 at the Wildey Theater (2 PM).
All questions should be emailed to director Joshua Weis -
weisjoshua@yahoo.com.
---
---
Congratulations to the Cast and Crew of
CHICAGO on a fantastic production!!


This production of Chicago
was sponsored by

---
---
Check out the pics from our Audition Workshop!

---
Follow us!!

The Curtain's Up Theater Company is supported with financial assistance from the Fox Performing Arts Charitable Foundation.